GAF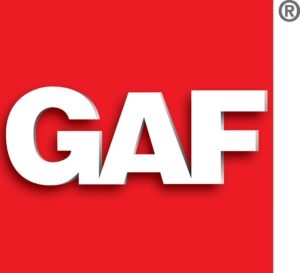 Advanced Quality
Whether it's for residential or commercial roofing applications, professional installers have long preferred the rugged, dependable performance that only a GAF roof can offer.
Expertise You Can Count On
We've been at this for 130 years. Why turn to anyone else to protect your most valuable asset?
Manufacturing locations across North America to serve you better
CARE installation training program that has provided education to nearly 200,000 industry professionals
Regularly sought out to appear in leading home and garden publications and on home improvement networks such as HGTV
Solutions Made Simple
Getting a new roof shouldn't be an exercise in pain and frustration. So we've made it easy!
Our GAF Lifetime Roofing System (for residential roofs) includes everything you need to provide reliable, watertight protection for your home
Our Well Roof™ Guarantee Extension (for commercial properties) through a Certified Maintenance Professional (CMP) extends a low-slope roof guarantee by up to 25% for free, as long as regular maintenance is performed (see the Well Roof™ Guarantee Extension for complete requirements); and our All-American Pledge™ Guarantee is the first NDL guarantee that covers both low-and steep-slope roofs on a single property
Our factory-certified contractors—more than 7,000 strong nationwide eliminate the risk that your roof will be installed by some fly-by-night contractor
Our industry-leading warranties — backed by North America's largest roofing manufacturer — will provide you with the peace of mind you deserve
The bottom line is: More property owners choose GAF for their roofing project — why trust your most valuable asset to anyone else?
Partial List of Shingle Awards:
Timberline® Shingles with Advanced Protection® Shingle Technology are the #1 selling shingle brand in North America
Rated #1 in shingle quality by home builders in 9 out of the last 11 years
Winner of 2012, 2013, 2014, 2015, and 2016 Women's Choice Award, with 9 out of 10 female customers highly recommending GAF to others
Multiple winner of the Builder's Choice Award
Winner of the Innovation Award for Asphalt Roofing Shingles in both Home Builder Executive and Home Improvement Executive in 2011, 2012, 2013, and 2014