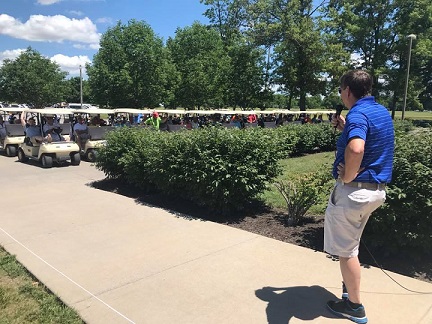 We got a little wet, but thank goodness we didn't melt!
East Side would like to thank all of our sponsors for helping put on another great scramble. Thank you to Hickory Ridge Golf Course for allowing us to use their beautiful course. A big shout out to Great Boars of Fire for their delicious meal they catered! None of this would be possible without all your continued support and we are very appreciative!
First Flight Winners-
1st Place: Wright Do it Center- Matt McKinney, Don Henshaw, Mike Weisel, and Provia's Tony Schult
2nd Place: Taylor Homeworks- Joe Taylor, Rust Goad, Jacky Gullett and America Pacific's Cliff Harding
Second Flight Winners-
1st Place: Bob Stotlar- Kirby Pauls, Ryan Violet, Doug Peebles and Larry Olsen 
2nd Place: A Step Above- Shane Bennett, Charlie Sharpe, Ellen Sharpe, and Riley Jennings
CONGRATULATIONS TO ALL THE WINNERS!
Please see our Facebook page for photos- https://www.facebook.com/eastsidelbr
See you next year! God Bless you all.